Hedge School (2023)
hand-poked tattoo
21 x 12 cm
Tattoo designed and poked by Peter McAteer
Photograph by Niamh Barry

Hedge School takes influence from the unfixed, ephemeral and fleeting existence of hedge schools during the eighteenth and nineteenth centuries in Ireland. Emerging as an act of resistance to the Cromwellian regime and continuing under the Penal Laws, hedge schools were alternative modes of education for young people of non-conforming faith. As the name suggests, hedge school or scoil scairte, initially took place in sheltered areas of hedgerow, however, as knowledge of their outlaw existence progressed, so did their transitory state of being; convening in more inconspicuous spaces such as houses and barns. Illegal in all manners, this pedagogical discourse was independent of institutions and ultimately, provides evidence of the transformative potential of EDUCATIONAL ANARCHY.

Similar to the scoileanna scairte of the eighteenth and nineteenth centuries, this Hedge School centres the ever-evolving identity of the 'non-conformer' to offer alternative insights to (re)imagining new, just, and sustainable ways of learning. Intervening in the gaps in the system-that-said-it-had-no-gaps – or at least pretended not to – Hedge School uses the tools provided by ecological, socialist and abolitionist coalitions to collectively (re)build a transdisciplinary toolkit in which more equitable education will not only be imagined but sustained.



---


Hedge School was a free art programme for adult participants with a special interest in radical pedagogies and was part of Temple Bar Gallery + Studios' public engagement programme Making Connections.



---
Week 1: Open Source Library
Léann Herlihy + Órla Goodwin
Similarly to your first day at school, this first
Hedge School
session focused on soft introductions and a gentle easing into the physicality of collectively sharing space. Recognising that knowledge is best when shared, each participant was asked to contribute to Herlihy's ongoing
Open Source Library
, a resource of theirs which is continuously added to, reflected on and shared throughout
Hedge School
. Scanning these resources into a collective archive, Herlihy indexed the four weeks into a
Hedge School Workbook
available
here
.
---
Week 2: "With Everything We've Got!" 1
Léann Herlihy + Roma Mary Loudon Hardaker

Centring the ever-evolving identity of the non-conformer, this beginners' wrestling workshop takes inspiration from Morgan Bassichis, Alexander Lee and Dean Spade's collaborative essay Building an Abolitionist Trans and Queer Movement With Everything We've Got; an assemblage of words that traverse the complicated entanglements of surveillance, policing, imprisonment, and the production of gender normativity.

Showing us the ropes of resistance is unprofessional wrestler and touch enthusiast Roma Mary Loudon Hardaker. Roma speaks to her experience of opening up her studio space as a training ground for Leeds Queer Wrestling and Femme Fight Club to working towards opening a trans-led gym in Leeds, BENT. Leading us to explore the question: who gets to defend themselves?

Building on frameworks of coalition, we work towards movements of collectively holding, supporting and fighting for one another.



---

1 Bassichis, M., Lee, A. and Spade, D., 2011. Building an Abolitionist Trans and Queer Movement With Everything We've Got. In: E. Stanley and N. Smith, ed., Captive Genders: Trans Embodiment and the Prison Industrial Complex. Oakland: AK Press.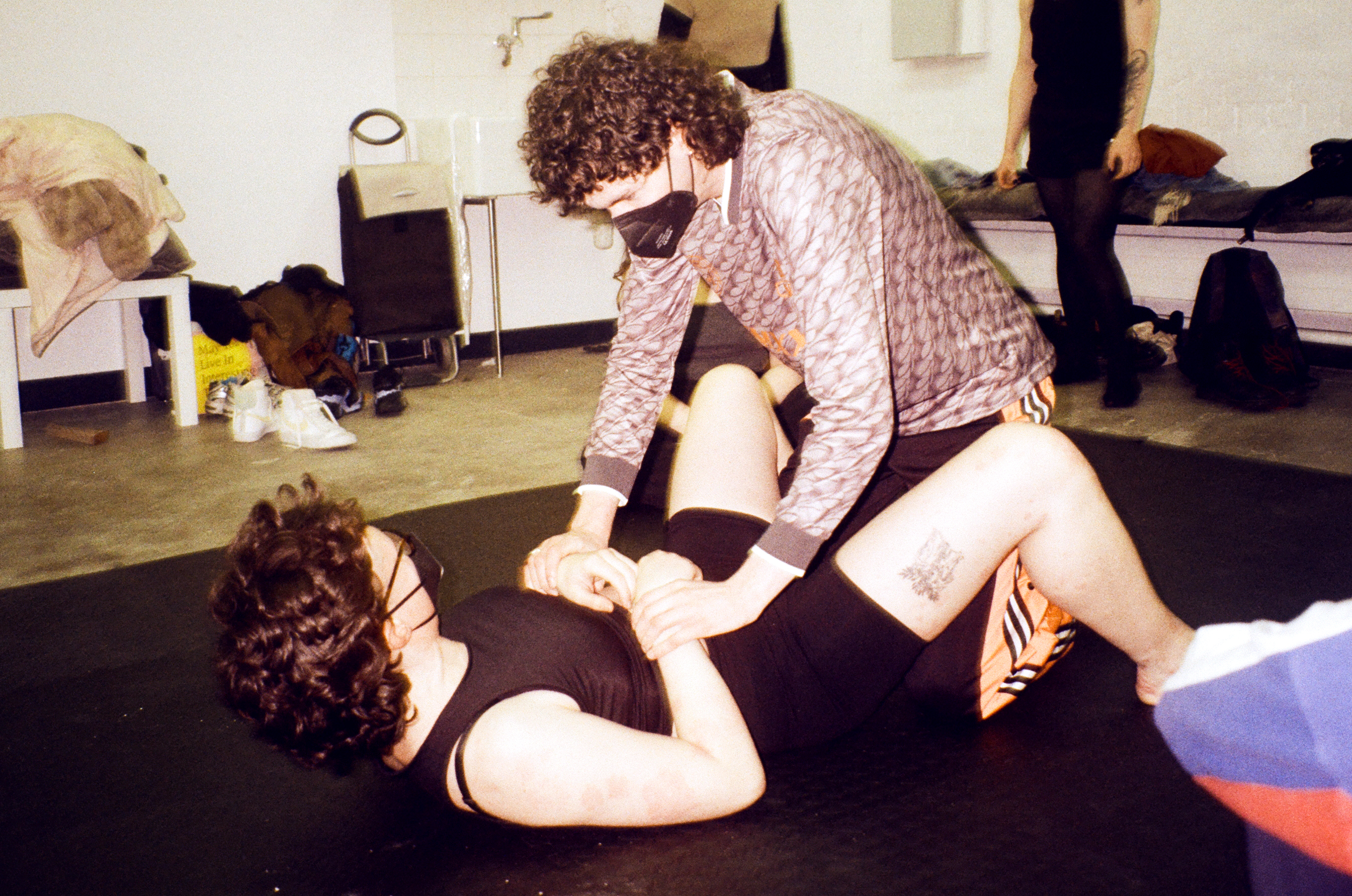 ---
Week 3: Coming Together, Coming Undone
Léann Herlihy + Alice Rekab
In the opening chapter of
Cistem Failure: Essays on Blackness and Cisgender
, Marquis Bey highlights how the action of
undoing
–a role undertaken by the anarchitect–can destabilise the rigid social order, and thus provide us with alternative visions of 'naturality':
"So the anarchitect, well, they give glimpses of the things buildings can't be, insisting on what isn't and maybe can't be "there"—what has been necessarily voided in order for what is sanctioned to appear natural." 2
Acting as a prompt, Alice and Léann lead a workshop that pivots around frameworks of anarchitecture; a process of (un)making, (un)building, (un)doing and refusal. Taking up the active role of the anarchitect, we build
nothing
– we tear down and mess with stuff, so that the outcome is, precisely, tearing and messing. Collectively coming together whilst simultaneously coming undone, Alice leads us through their own experience of tactile and guttural (un)making within their art practice.
---
2
Bey, M., 2022.
Cistem Failure: Essays on Blackness and Cisgender
. Durham: Duke University Press. p.4
---
Week 4: Rewriting the Curriculum
Léann Herlihy + Diana Bamimeke

Recognising that the criteria used to classify curriculum will always be insufficient, Rewriting the Curriculum disrupts the Western fixation on fixity, and thus, this school's syllabus is in a constant state of reform.

Bringing us back to basics, the last Hedge School session reflects on what we have been given. Pulling from their experience in (re)writing curriculum, Diana and Léann expand, shift and dislodge comprehensions of how we align with and diverge from methods of knowledge-sharing among people of other subjectivities.

Translating the elementary method of alphabet stencils, we begin re-writing the curriculum through communal screenprinting; an ongoing series of subjective negotiations informed by autobiographic, mythologic and embodied performances of the self.

Collapsing format and centring chaos, we are left with the question: how do we write against Western tendencies to categorise?