i'd rather be a fag than be your bird
performance

i'd rather be a fag than be your bird (2022)
live performance [20 minutes]
35mm slide projector, spoken word, cushions
Photographs by Manuel Vason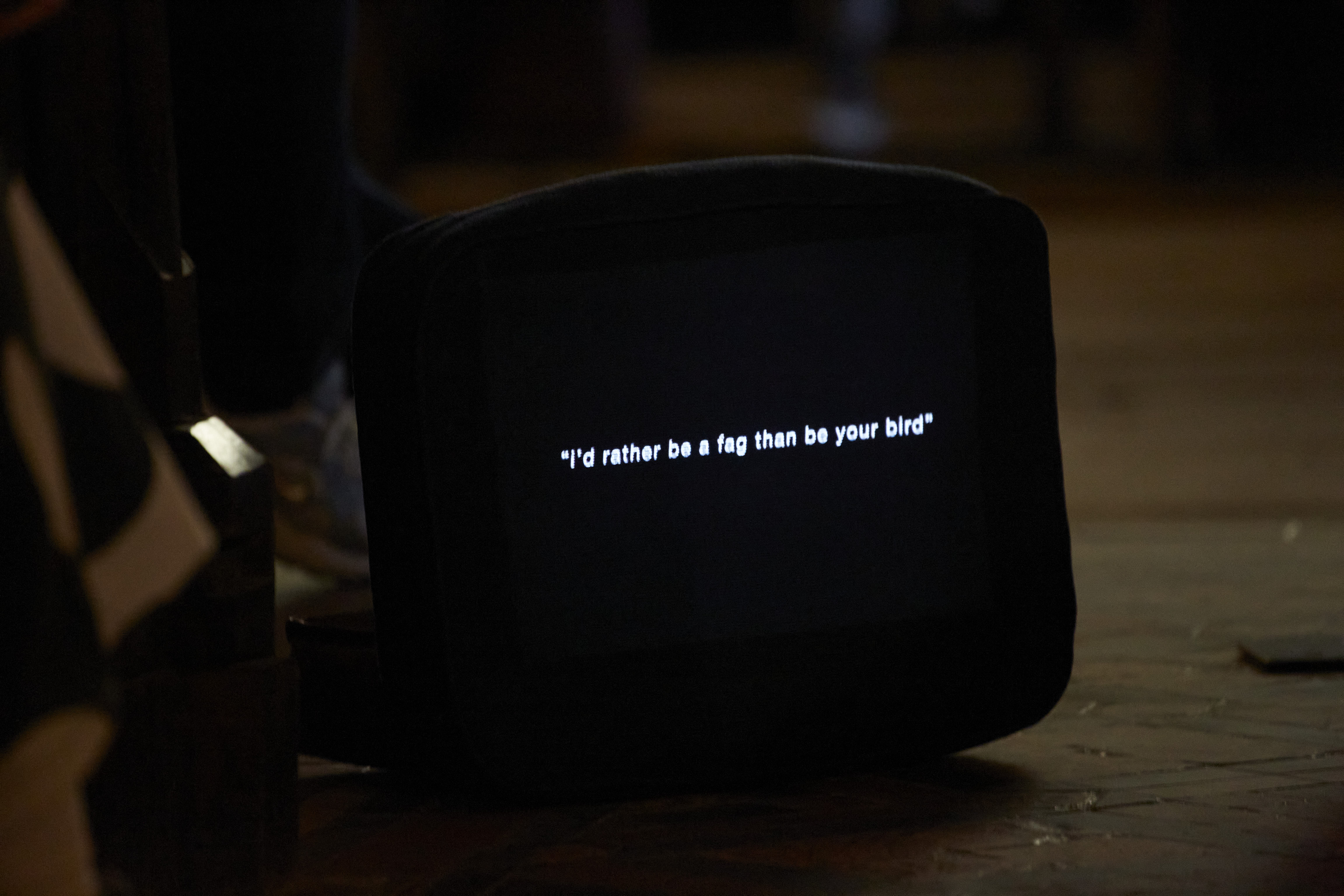 i'd rather be a fag than be your bird
(2022)
live performance [20 minutes]
Photographs by Manuel Vason
Negotiating public space as a queer-gender-bender, the word 'fag' is often directed towards me. A single syllable which (un)marks my identity all in one brief breath. The initial (un)marking stems from 'fag' being directed towards me by a stranger in a bid to mark me as Other. Normally declared by a white cis heterosexual man, it becomes evident that he has wrongly read me as a cis gay man. Soon after this, there is a brief buffer; a moment where he recognises his own misrecognition. This acts as a catalyst resulting in two possible outcomes: regret or violence. However, it is during this short buffer of uncertainty—10 seconds or so, where I am socially perceived as something Other than a fag—that the F found on my birth cert, passport, driver licence, medical card, and cacophony of institutional State documents which wrongly conflate sex with gender, becomes eradicated. Then, this 10-second buffer ends and the misrecognition becomes apparent. A gasp followed by the declaration: "HE'S A BIRD!" And it was my response to this oxymoronic statement that prompted the title of this work:
"i'd rather be a fag than be your bird."
i'd rather be a fag than be your bird
(2022) is a live reading with an array of 35mm slides which uses image description and direct quotes that document the shifting, expanding and rupturing ways that trans, non-binary and gender non-confirming people reclaim social perceptions whilst navigating the public sphere. Disrupting the discrepancies in essentialist theories of gender,
i'd rather be a fag than be your bird
socially critiques the dichotomised structure of Otherness in a heteronormative society. Transgressing beyond 'Other' as another tick-box option to choose from, this body of work calls for the abolishment of colonial and capitalist coercive mechanisms of segregation.
---
i'd rather be a fag than be your bird
was commissioned by
]performance s p a c e[
. The first iteration of this work was performed whilst lounging on a pile of plush velvet pew cushions in St Eanswythe's Church, Folkestone in April 2022 for ]performance s p a c e[ day of performance:
TIDINGS
. The work has since travelled to events such as
TRANSFAG: a Celebration and a Manifesto
at
Fringe! Queer Film & Arts Fest
in London.
i'd rather be a fag than be your bird
was acquired by the
Irish Arts Council
and added to their Collection in 2022.
---